Retirement Contribution Limits
Every year the IRS makes adjustments to retirement contribution limitations for inflation. For 2017, most savings contribution limits remained the same with the exception of the SEP/401(k) and individual HSA limits. The maximum SEP / 401(k) contributions went up from $53,000 to $54,000 (plus $6,000 for those age 50 and older). The individual HSA contribution limit went from $3,350 to $3,400 (plus $1,000 for those age 55 and older). Below are the contribution limits for 2017.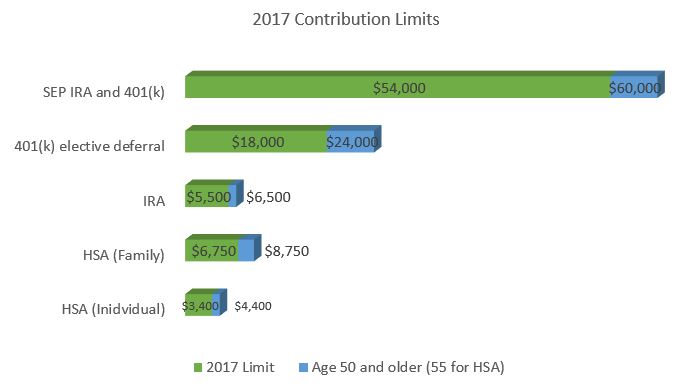 Traditional IRA contributions are limited based on income if you also participate in an employer-sponsored retirement plan. Roth IRA contributions are limited based on income regardless of your participation in an employer-sponsored retirement plan. These income limitations as well as the phase out are as follows: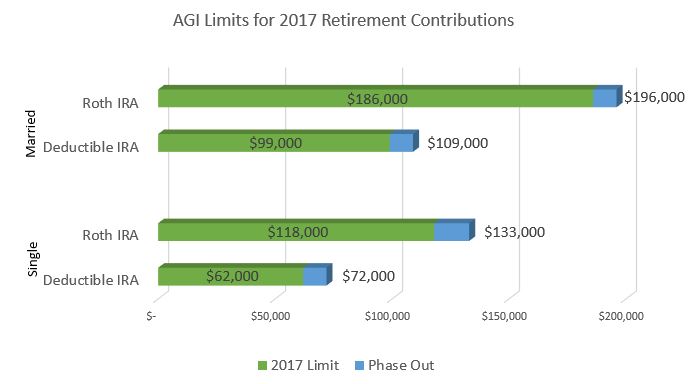 Other changes for 2017
Standard Deduction:
Single: $6,350 (up from $6,300)

Married: $12,700 (up from $12,600)

This is a small increase to the standard deduction which will reduce the tax owed for those who do not itemize deductions.

Medical expense deduction:
Above 10% of AGI for all taxpayers (previously 7.5% for those 65 and older)

Seniors will have the same hurdle as younger taxpayers to claim an itemized deduction for medical expenses.

Social Security wage base:
$127,200 (up from $118,500)

This large increase in the Social Security wage base means that individuals who reach the max on Social Security taxes will owe an additional $539 this year.

Estate tax exemption:
$5.49M (up from $5.45M)

For those with taxable estates, the exemption goes up slightly.